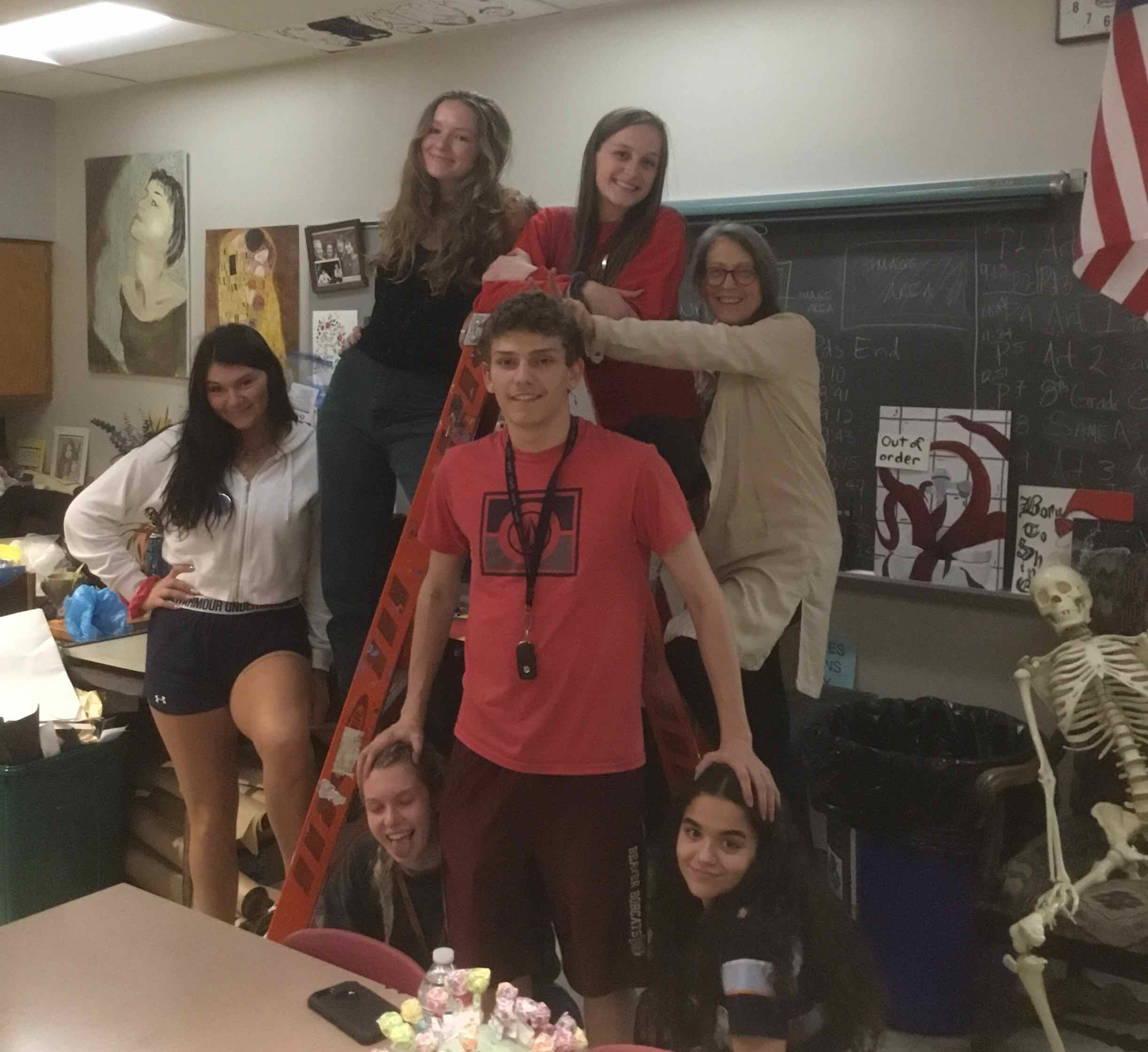 The art kids drew in quite the crowd with the annual art show May 10!
This year, the show was themed "Alice in Wonderland," and it sure stayed true to the theme with its life-sized paintings of characters set within an eerie black light-lit cove. Plus, the art room seemed fit for a Mad Hatter tea party with its long table laden with dinnerware decorated by the art students.
Later in the night, there was a talent show where a number of students and student-led bands performed (like Sunset Patrol and End of Thought!).
"The art show was cool! The art cove's [outside of room C-8] decorations were phenomenal," senior Theodora Sakkas simply commented.
All the art classes participated in the art show—from Art 1 through A.P. Art. But the students were allowed to choose what art they would like to display. Studio Art, Art 3, and A.P. Art were given large pieces of black corrugated cardboard and black papers on which to adhere all of their favorite pieces to display for the show. Some students even went the extra mile and decorated the displays around their art.
During the setup prior to the show, some seniors had more of a role to play—seniors Gianna Plevel's and Robert Good's volunteer/senior hours were made up of helping set up and prepare for the art show.
"I try to do that [give seniors the opportunity to have this as their hours] every year so the students take ownership of the art show; it's not just me doing it all. So they decide where the show is going to take place in the school and so on," art teacher Mrs. Karen Steffes explained.
Hannah Szczesny, a senior whose art was displayed in the show, was extremely pleased with how many people came to the art show.
"I just liked that so many people came just to support the art students. Not even the fact that the art was there—it was the fact that people came to support something that normally doesn't have a ton of light shone on it," Szczesny remarked.
However, the art show had a bittersweet tang for the seniors knowing it was their last school-run exhibition.
"It was so sad! I can't come back next year as a student, and I won't be able to display my art up anymore," senior Alyssa Lucas lamented.
The art students did and will continue to do a great job on the art show, and they all thank you for visiting the event!