Bidding fond farewell to the Tarq . . .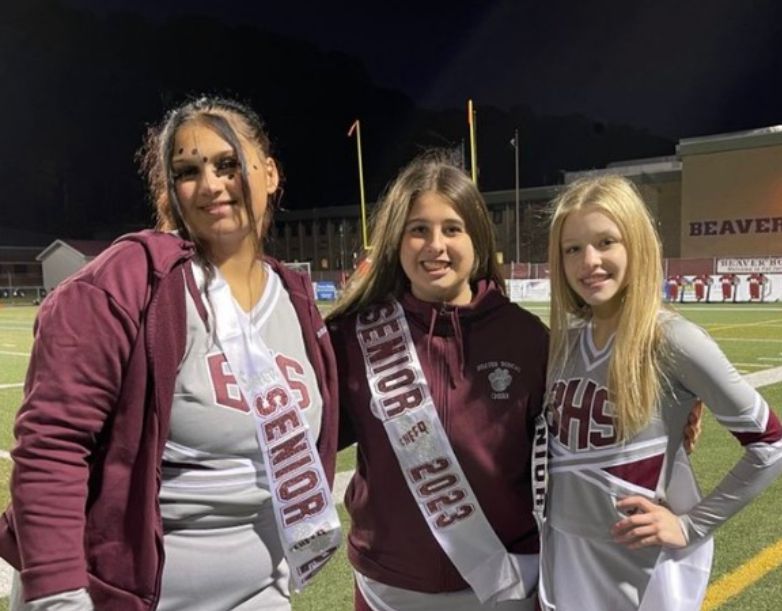 Friday night lights—or senior night lights?
Seniors on the football team, senior cheerleaders, and senior marching band and color guard members celebrated their special night October 28. Seniors were honored with a walk across the field alongside their families while their high school accomplishments, future plans and aspirations, what world problem they would solve if they could, and any other fun facts about the student were shared with the audience. The ceremony was a sentimental tribute to each senior.
"It was actually way more emotional than I thought," said senior varsity cheer captain Alex Biela. "I wasn't sad until I saw my friends crying at me, and it really hit that it was the end."
"It felt special walking down," said football captain senior Omari Smith. "The lights hitting my face and walking on the Tarq one last time—it meant a lot to me. And no, I certainly did not expect it to be that way. I was nervous, kept all my emotions in, and just smiled."
All three groups of students had special ways of celebrating their featured upperclassmen.
On the football team, a group of seniors walked around the Pat Tarquinio Field to talk about the memories they had made together through the years. Cheerleaders made t-shirts for juniors, sophomores, and freshmen that read "I love senior's name" on the back, which were paired with crazy outfits worn at school that day. While the marching band and color guard screamed for their members as they walked down the field from the stands.
Seniors of all groups appreciated the community's presence and the recognition at their big night.
"It was nice to have my hard work recognized, especially when my accomplishments were announced," said Biela. "It was exciting to hear people ask me about them afterward."
Underclassmen had the special opportunity to watch their captains, teammates, and role models be honored, as well as to catch a glimpse at what's to come in their own futures.
Smith also offered some advice: "I know this is going to sound very clichéd, but enjoy the time you have. High school really does go by fast. Y'all got some big shoes to fill. I believe in all of you."
Biela advised: "I would tell the underclassmen that even in the hard situations, the most important thing is to be a good role model and teammate. You'll likely feel better about the way things went if you do your best to be a good friend and have fun rather than worry about things outside of your power."
The Bobcats played against the Hopewell Vikings, winning 48-13 making the special evening that much more memorable. This was not the Bobcats' last game, however.
Because the team won, they secured a playoff game at home November 4, in which Beaver Area beat the Deer Lakes Lancers 17-3. This win meant that Beaver continued to advance, playing against Avonworth November 11. Sadly, Veterans Day playoff game ended with the Antelopes overpowering the Bobcats 28-7.
The season is now officially over, and Beaver Area heads to the off-season knowing they played well. The students' and athletes' hard work and devotion to their passions does not go unnoticed. Congratulations Bobcats on a great season, and congratulations to our seniors!