These Bobcats met lions . . .
The holidays are a time to spend with friends, family, loved ones, and . . . lions? This past holiday break, my family embarked on a very unusual Christmas vacation. The O'Leary family, all 16 of us including my sophomore cousin Quinn, went on a safari in Africa. Here is our story.
Our journey began at 6 a.m. December 21 (you caught me; we skipped school) when we boarded a flight to JFK airport in New York. Fun fact about this first flight: the 14 of us (my grandparents flew out of Miami because they live in Florida for the winter) took up most of the seats on the plane because the plane was so small and our group was so big—it was like having a private plane.
After a four-hour layover at JFK, we began our 14-hour flight to Nairobi, the capital city of Kenya.
Anyone who has ever been on a plane knows that a two-hour flight to Disney can be taxing, so you can probably imagine how rough a 14-hour flight was on everyone. Nevertheless, we made it to Nairobi in one piece. We all took a nice nap when we got to our hotel in the city.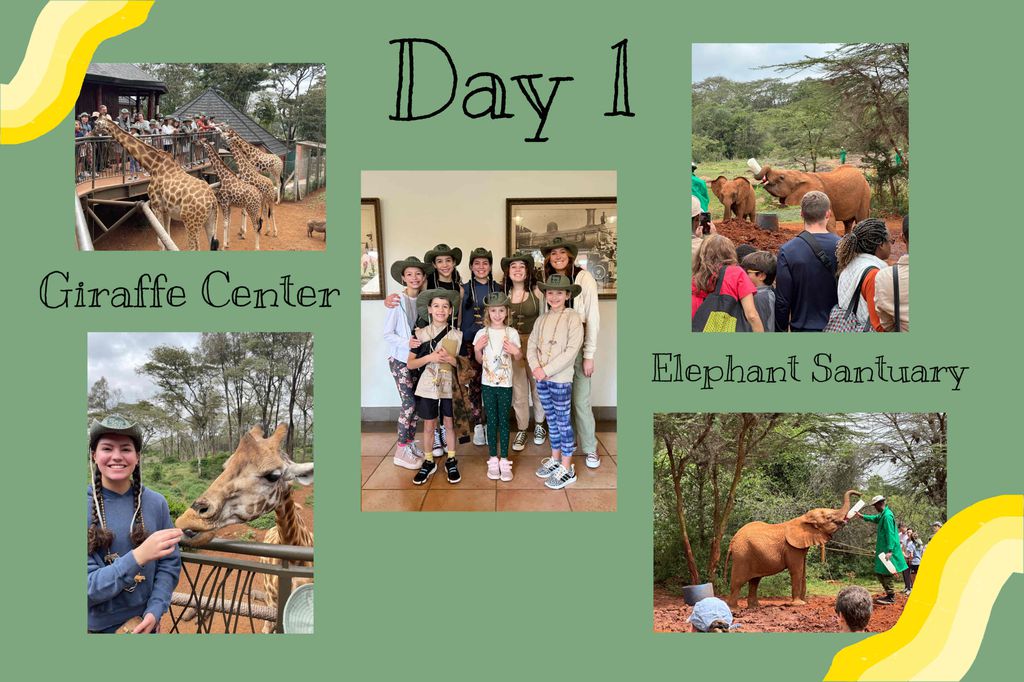 Our first full day in Kenya was not quite the start of our safari. We stayed in the city for the day so everyone had adequate time to adjust to the new time zone and visited the Giraffe Center and Elephant Sanctuary.
The Giraffe Center is home to many adult giraffes that are bred in an effort to replenish the dwindling giraffe population, and they are accompanied by some of their babies. At the Giraffe Center, we learned some fun giraffe facts, got to pet giraffes, and got to feed giraffes which was pretty cool.
The Elephant Sanctuary is home to young, orphaned elephants that were rescued and are being raised until they are old enough to be released back into the wild. We got to watch the elephants get fed with bottles and play around with each other while also learning their stories of losing their mothers to drought, disease, or poaching.
After those adventures, everyone got to relax at the hotel in whatever way they wanted while we still adjusted to the eight-hour time difference.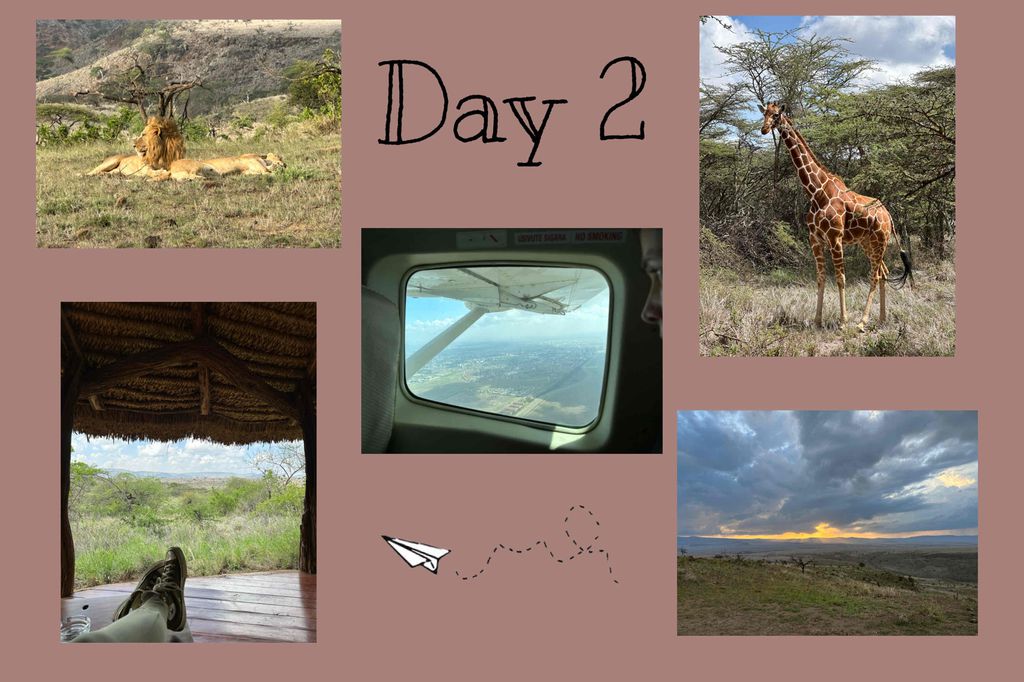 Now, the fun stuff truly begins. On our second day, we left the hotel to travel into the bush—open land where people don't live—in Lewa to start the real part of our safari. We got to fly in bush planes, which are small, 12-seat planes that fly people in and out of the bush. They were very interesting to ride in since we had never been in planes like that before.
When we landed at the Lewa Wildlife Conservancy, we were greeted with snacks and drinks (cocktails for the adults) before we made our way to the camp where we'd stay, which was about a one-hour drive away. The drive to camp was amazing. We got to one path and there were giraffes not 50 feet from the trucks.
When we arrived at the Lewa Safari Camp we were greeted by the camp staff, got briefed about the rules of camp (one rule being that we had to be escorted back to our tents when it was dark out in case any animals got in the camp and startled us), and were assigned to our tents.
The tents were amazing. They weren't your average REI tents; these tents were huge, had full-sized beds and bathrooms, and had porches that overlooked the bush.
We all ate a delicious lunch after getting settled into our tents, and then we departed for a late afternoon game drive. During this drive, we saw so many different animals including zebra, oryx, impala, gazelle, giraffes, a variety of interesting birds, and a pair of mating lions. Fun fact about lion mating: it takes a pair of lions over 200 tries for the female lion to get pregnant, and the pair will mate about every 20 minutes for four to five days.
We were surprised on this drive with a sunset appetizer and drinks stop before we headed back to camp for dinner. The view was spectacular, and we even saw some giraffes lurking off in the distance.
We got back to the camp and were served a five-course Christmas Eve dinner. The food was phenomenal.
One fun feature of both of the camps that we went to is that at night you made arrangements for a "wake-up call" in the morning. With each wake-up call, your tent would schedule a time to be woken up and a drink to be woken up with. I was woken up with a cup of tea each morning, but you could have any drink like coffee, hot chocolate, water, or juice.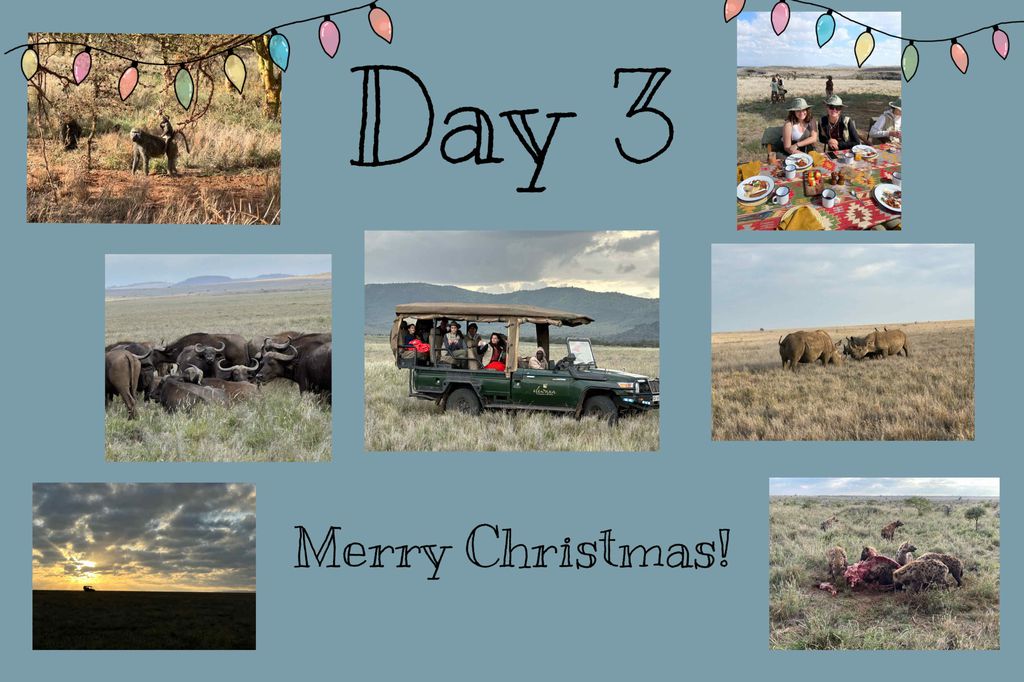 Day three of our trip was Christmas day! Everyone had exchanged gifts before the trip because it would have been a hassle to bring a bunch of presents with us. After being woken up with warm drinks and some cookies to accompany them, we made our way to the main camp to prepare for a morning game drive. We were surprised with stockings for everyone in the family that contained ornaments and sweet treats.
Our morning game drive was another beautiful ride. We saw more of the animals we saw the day before (including a group of brother lions who had just killed a buffalo), and we saw hyenas and jackals (both of which were eating the lion's buffalo), baboons (a troop of about 50), a solitary male elephant, and some white rhinos (a mom with her baby and a male).
Fun, but also sad fact about the rhinos at the Lewa Conservancy: the rhinos are tracked since they are an endangered species due to poaching; however, the rhinos have to be physically marked to be tracked because poachers found a way to hack into the GPS systems that used to track the rhinos.
Toward the end of our drive, we spotted more rhinos, including two black rhinos, and I accidentally found a herd of elephants heading to the water because I pointed my camera the wrong way.
We finished off the morning with breakfast in the bush, which consisted of muelix, muffins, bacon, beans, sausage, and egg burritos.
We returned to camp to just relax before lunch. Most people stayed at their tents, and my sister and I sat and read by the pool for a bit.
Lunch that Christmas day was very entertaining. Our food was undoubtedly delicious, but what really took the cake was the entertainment. Before we ate, we were entertained by a group from a Massai village. They performed traditional dances and chants while also wearing traditional Massai clothing and accessories. They got the entire family up to dance with them which was really fun.
After a bit more hanging around camp after lunch, we went out for another afternoon game drive. We saw many of the same animals again, but that doesn't mean they weren't still amazing to see. The newest animal we saw was a herd of buffalo, and buffalos are some pretty dumb-looking animals, so we just laughed while looking at them. While looking at the buffalos, we also got crazy close to some white rhinos.
Our drive back to camp got a bit delayed by a herd of buffalo blocking the road. We stopped at a watering hole that had dried out from drought to have some snacks before returning for our delicious Christmas dinner.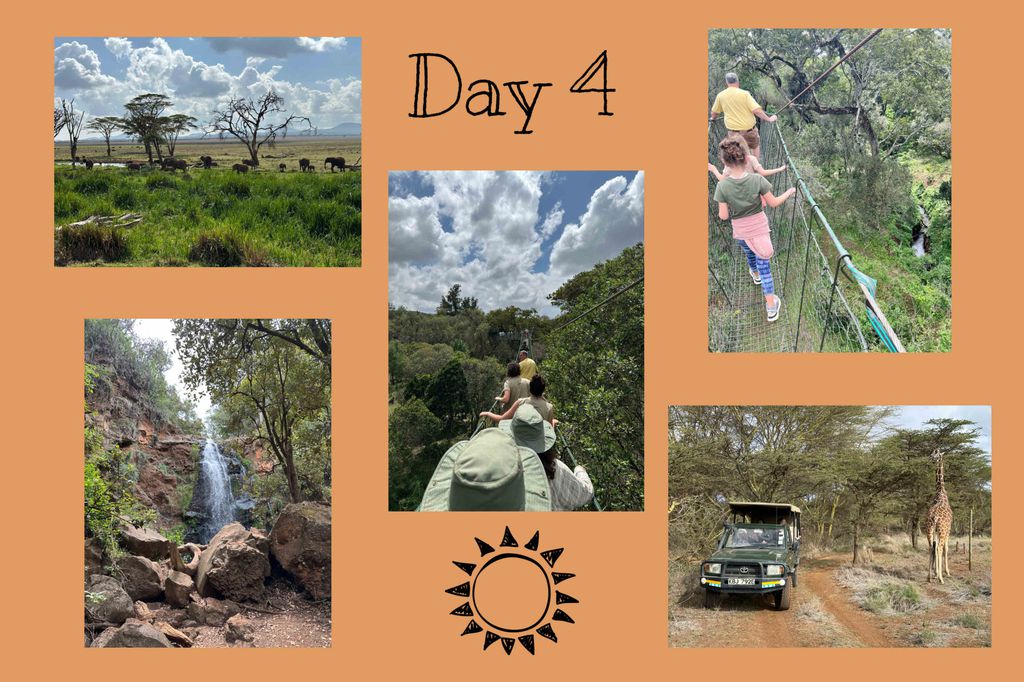 The next day was a bit different from the previous two. Instead of game drives, we left camp a little later and went to the Lewa Conservancy forest. We still did a bit of a game drive on our way to the forest.
On our drive, we saw a animals around a watering hole which was pretty cool to see. By this same watering hole, we saw a house that belongs to a wealthy person (whose name I can't remember) who is friends with Prince William, who occasionally stays at the house and proposed to Princess Kate while they were on a trip there.
After our game drive, the ride to the forest was extremely bumpy and a bit treacherous, but our drivers knew what they were doing. In the forest, we hiked on another treacherous path to see a beautiful waterfall. We then hiked to a cliff jumping/swimming area where my sister Bailey and my cousin Quinn jumped off the rocks and into the very cold water.
After the hikes, we drove to a section of the forest that had a canopy walk. The canopy walk was nothing like what we expected. The whole family thought it was going to be walking through a bunch of tall trees; instead, we walked in the canopy of the trees on a very long hanging wire bridge. I was terrified the whole time to be perfectly honest, but everyone else seemed to have a good time.
After our treacherous journey through the canopy, we ate lunch in the forest and then returned to the camp.
The remainder of our day was much of the same, just relaxing and doing whatever we wanted to until dinner time.
At dinner, my cousin John Patrick, who had stayed back from the activities with his sister Maggie because they were not feeling well, shared an exciting story: he and his sister we walking back to their tent sometime in the afternoon while their mom stayed at the main camp for a little longer to use the wifi. John Patrick was running down the path to their tent while Maggie was just walking and was abruptly stopped by something crazy—a baboon right in their path. John Patrick turned back around and ran to Maggie and said "run!" They ran back to the main camp, and at first, it seemed unlikely that John Patrick had seen a baboon because they typically stay outside the camp, but sure enough, there was a troop of baboons. In conclusion, my cousin Johnny fist-fought a baboon (real).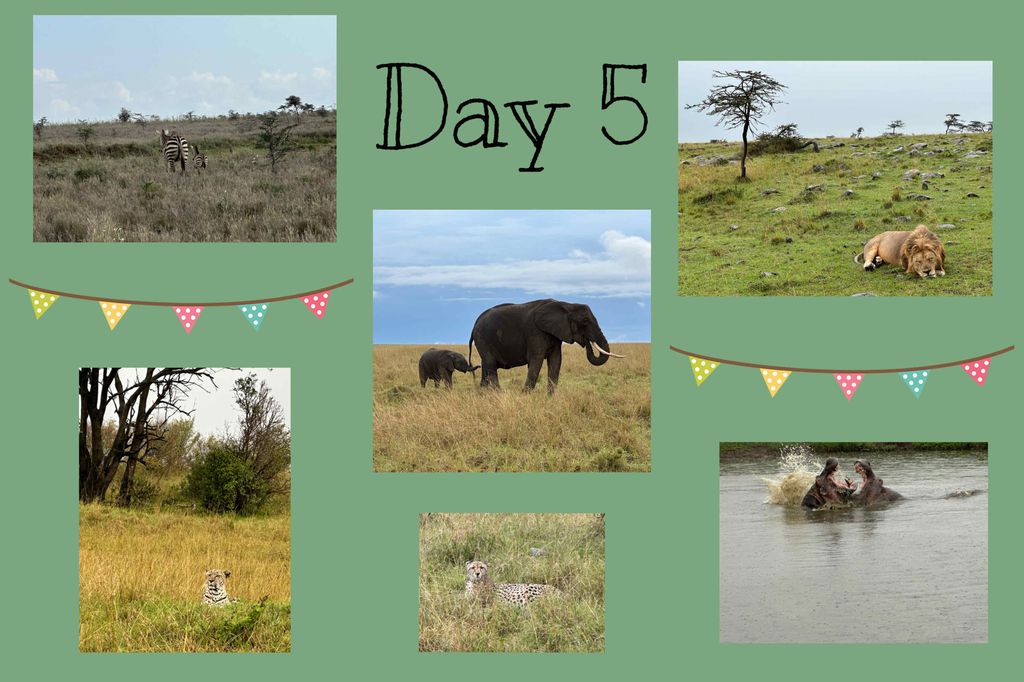 December 27 was our last day in Lewa. It also happened to be my grandpa's birthday as well as my grandparents' anniversary. We had our final breakfast at the camp, and then my grandpa was serenaded with a birthday celebration song by the camp staff, and we all had some cake.
We left camp that morning to do one last game drive in Lewa and catch another bush plane to our next destination: Maasai Mara National Reserve.
When we arrived in Massai Mara, we were again greeted after our flight with snacks and drinks. We did not do a true game drive on our way to our new camp this time, however.
The new camp we stayed at is called the Elephant Pepper camp. It is named after the elephant pepper tree, which got its name from its leaves tasting like pepper and elephants liking to eat them.
The camp was, again, beautiful. One very different part about this camp was that the Lewa camp had been fenced to keep animals out, but the Elephant Pepper camp did not have fences, so the animals could go wherever. This camp also had escorts back to our tents at night, but these escorts were armed with spears.
After settling into our new tents and having an amazing lunch, we all met for tea and banana cake before leaving for a drive. While we were hanging out in the common area tent, vervet monkeys were jumping all around in the trees and on top of the tents we were sitting in.
We departed for our first game drive in Massai Mara. We saw some of the same animals like lions and elephants. We also saw some new animals: hippos, wildebeest, warthogs, a cheetah, and leopards. Leopards are pretty rare to see on Massai Mara because there are so few of them on the reservation, so we were pretty lucky to see them on our first day.
The driver of my truck, James, shared with us that they call warthogs "lion sausages" and Thomson's gazelles, which are just a specific type of gazelle, "cheetah crisps." I found this pretty funny.
After our drive, we had yet another amazing dinner when we were joined by five young elephants just hanging out in the field behind us.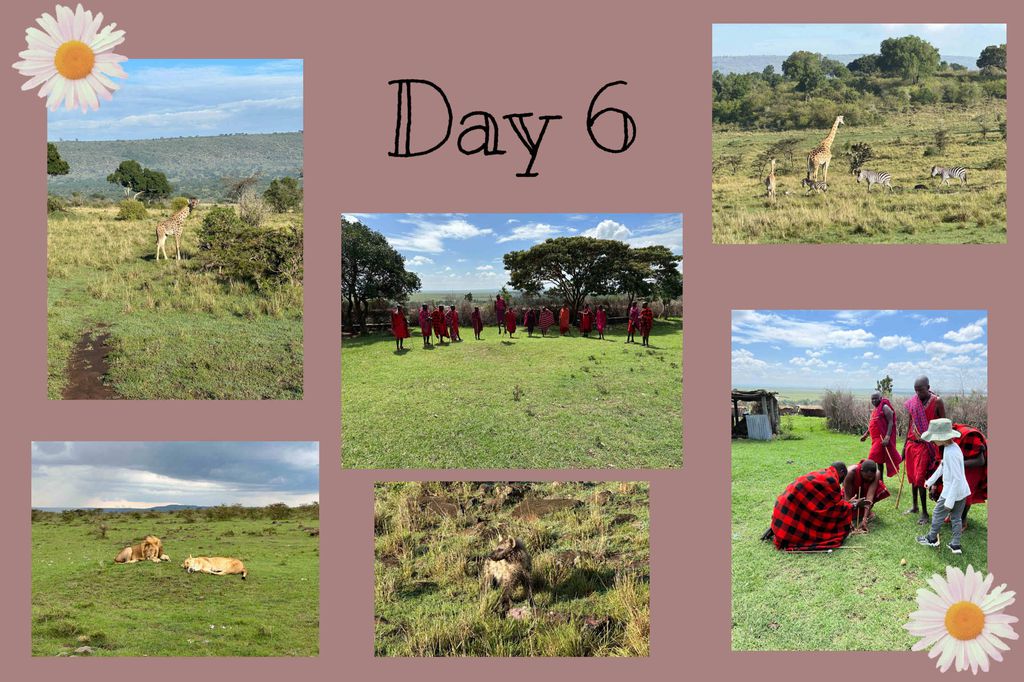 The next day we started our morning with a game drive where we saw many of the same types of animals and a ton of babies including baby giraffes, zebras, and wildebeest. We even saw a newly born gazelle take its first steps.
That morning, we had a beautiful breakfast out in the bush. We had build-your-own tacos. While we were eating a giraffe walked up a path toward us and a couple of hyenas walked around us.
After breakfast, we went to a Massai village and learned about the Massai people and their culture from the village's future chief. We saw more traditional dances and chants and got to participate again. We also saw the homes in the village and learned about how they were built and even got to tour one to see the inside. I found it quite interesting that each house had a room inside for the baby cows even though there were cow enclosures to keep the cows when they aren't grazing.
After hearing a song performed by the village women, we browsed a market selling goods handmade by the villagers. If you wanted to buy anything from the market, you had to barter for the best price, which I found interesting but stressful, so I left that to my parents.
After visiting the village, we returned to camp to relax before the evening game drive. On this drive we saw more lions including another mating pair. We also saw two female lions try and catch some zebras, which was a stressful experience since I did not want to see a zebra get killed.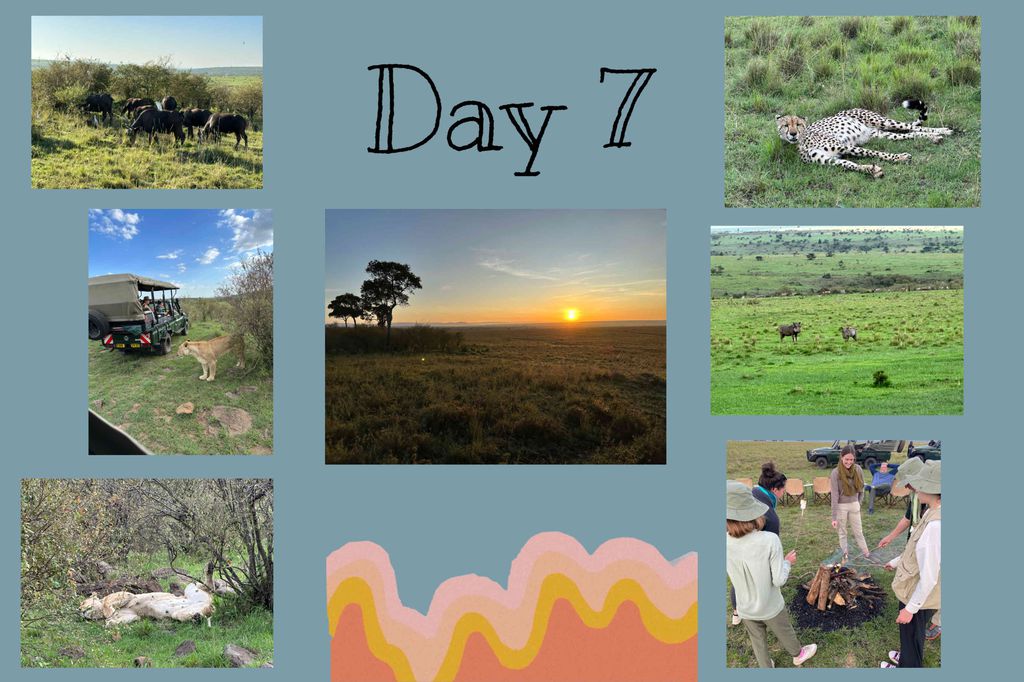 Our next day was our last full day in the bush. We just did morning and afternoon game drives. We saw a gorgeous sunrise, many of the same animals, a cheetah that was chowing down on some fresh gazelle, and a sleepy female lion.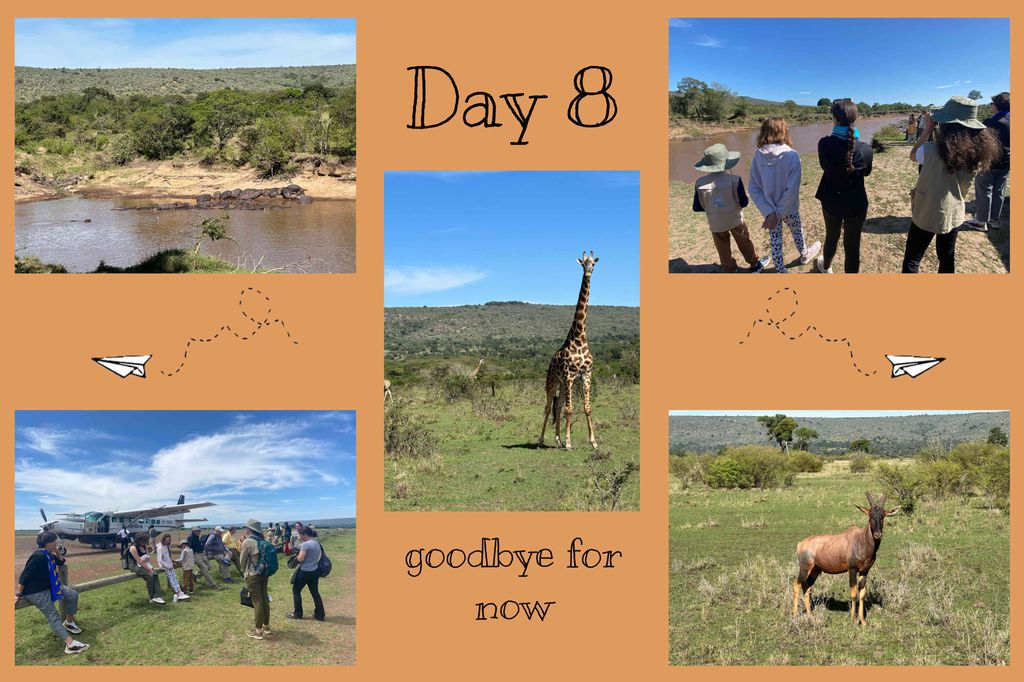 December 30 was our last day in Kenya. We went on a morning game drive on our way to the airstrip to get on our final bush plane to Nairobi. We were able to get out of the trucks to observe hippos (through binoculars from a safe distance) on this last drive.
We got to Nairobi around noon, but our flight home wasn't until midnight, so we relaxed at a hotel, napped, showered, watched TV, and had lunch and dinner before we headed to the airport.
I will save you all the chaotic stories from the Nairobi airport, just know I have never been more stressed in my life.
The flight back to JFK was even longer than the flight to Nairobi because of the wind—I don't know, I didn't take physics. We had an eight-hour layover in JFK which just about killed the whole family, but we all got home. We returned to Pittsburgh around 6 p.m. New Year's Eve. Needless to say, we did not participate in big festivities. (I fell asleep right after dinner.)
So yeah, that was a recap of the O'Leary African Safari Christmas. It was truly a once-in-a-lifetime adventure that I am extremely grateful to have experienced.